High Standards – Hand Crafted
At Berkshire Roots, we focus on product innovation every day. We continually refine and create new products. Striving to reach higher, to elevate your experience, and deliver unparalleled quality. 
Learn more below about some of our Berkshire Roots' cannabis products, including our edibles, award-winning chews, Seasonal S'Mores Chocolate, Community Collaborations, like our Six Depot Cold Brew Chocolate Bar. Top-selling flower strains like our Orange Chemeleon, Vortex, and 10th Planet.  So check back for features and highlights on more of your favorite BR products and other curated partner products. 
Berkshire Roots takes special care to create unique products.  The Signature series of products includes flower, concentrates, and edibles.  Our expert staff in cultivation, extraction and culinary arts are working around the clock to deliver premium experiences through special techniques, unique combinations, and developing recipes with thoughtful, premium ingredients. 
We continue to innovate and refine and we are excited to be releasing some new products soon. Check back or sign up for the VIP emails to hear 1st!

Signature Blend™ Concentrates
When the extraction gurus in our laboratory wanted to create something special, they began experimenting with some of our most popular flower strains, seeking a new level of perfection in our EHO extraction practice. After extensive testing and feedback, they've wowed us all. So now we're introducing our latest innovation: Signature Blends™ concentrates from Berkshire Roots Signature Collection.
What makes a Signature Blend? A careful combination of our most popular strains, curated with complementary terpene and flavor profiles that make for a one-of-a-kind consumption experience.
These special blends are only available on rare occasions. If you see one on the menu, snap it up while they last!
We've changed up some of our packaging . Check out the new Gold Standard of our Signature Collection, we've got quite the line-up.
Signature Blend #5 – Planet of the Dawgs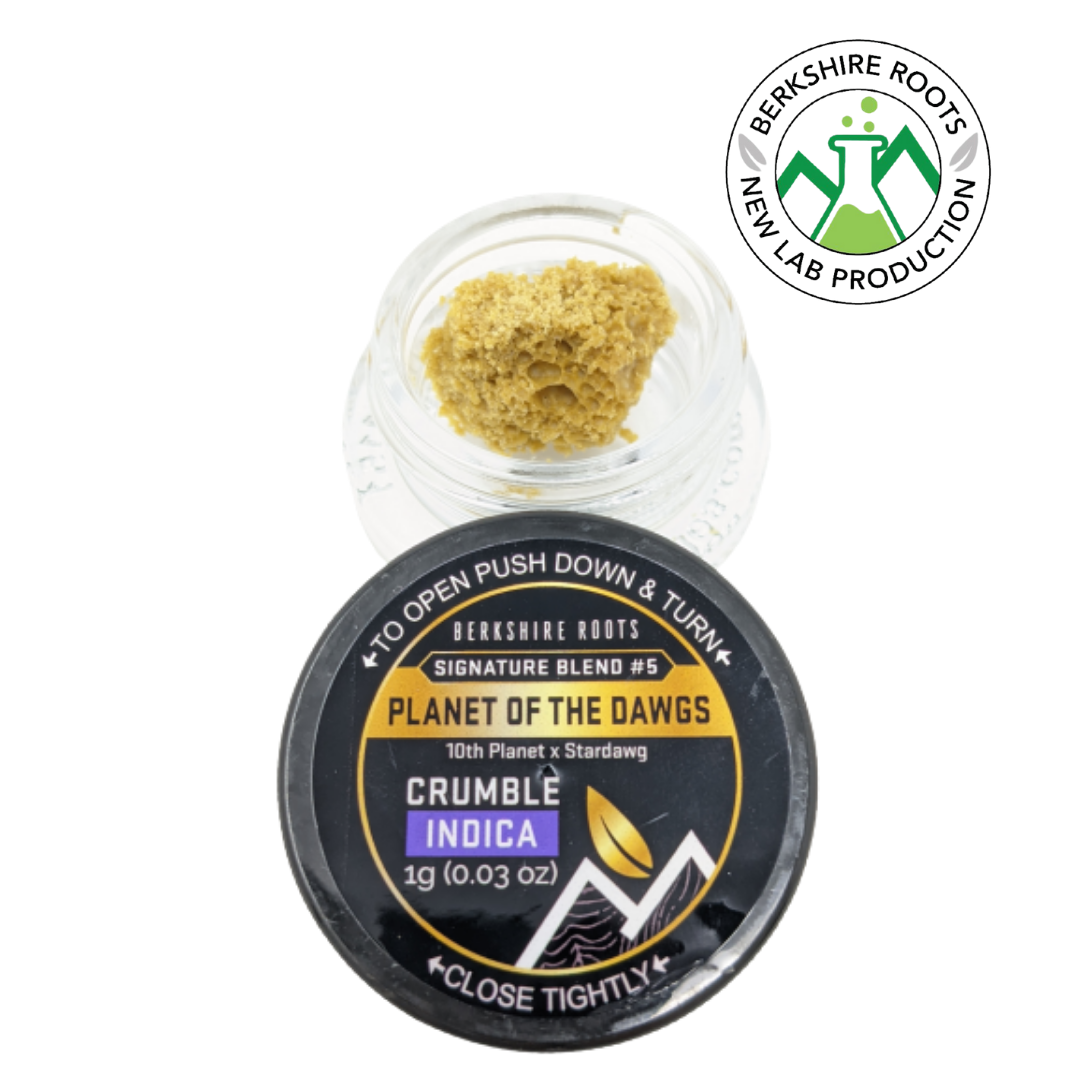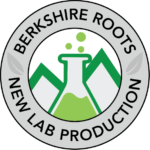 Signature Blend #4 – Blue Chemeleon
The latest from the Guru's in our lab is the Planet of the Dawgs Crumble
This Indica blend combines 10th Planet and Stardawg. The aroma hits the light, with a gas like a skunk and hints of lemon and pine. Grab this new blend, as always, while supplies last.
Did you notice the New Lab Production seal? This will help you to identify the products we are producing out of the brand new state-of-the-art laboratory that was just completed. Using new extraction methods and solvents included propane and butane extraction, we are excited to now be using hydrocarbons. Come visit for the best in shatter, wax, badder. crumble, sugar and more to come!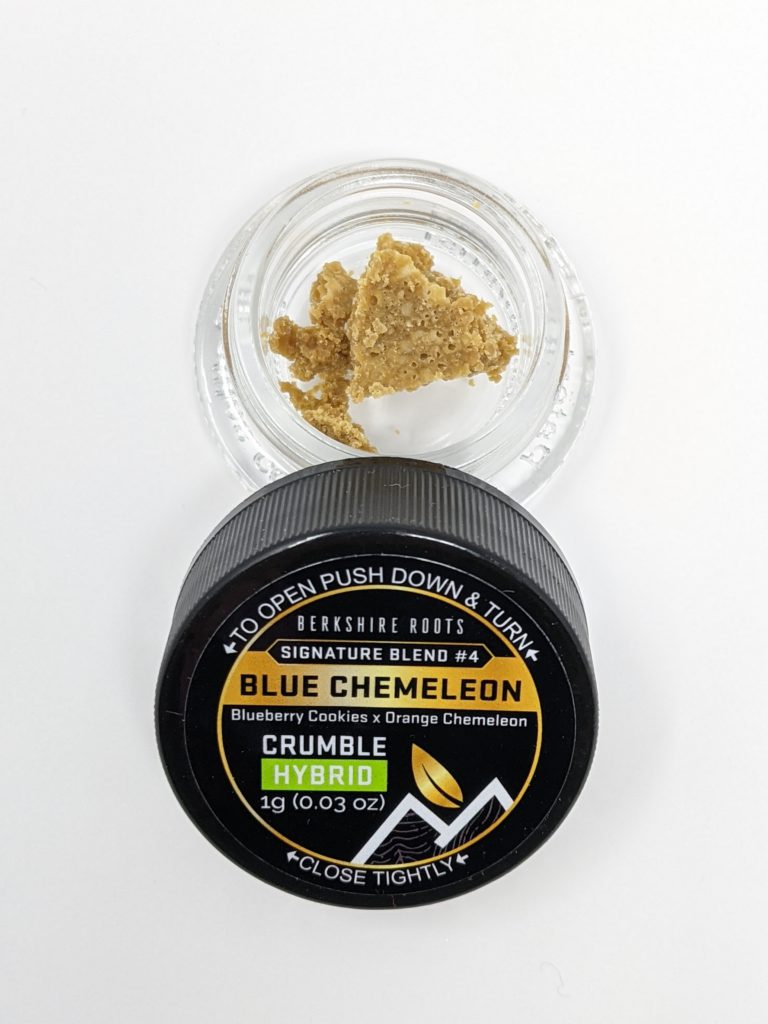 This blend combines two fan favorites, a Hybrid Orange Chemeleon + Blueberry Cookies cross.
A refined aroma of dried citrus with a hint of stone fruit. Delicate sponge-like cake consistency with a beautiful golden color.  The most unique concentrate the house has put forward. 
Signature Blend #3 – Greylock OG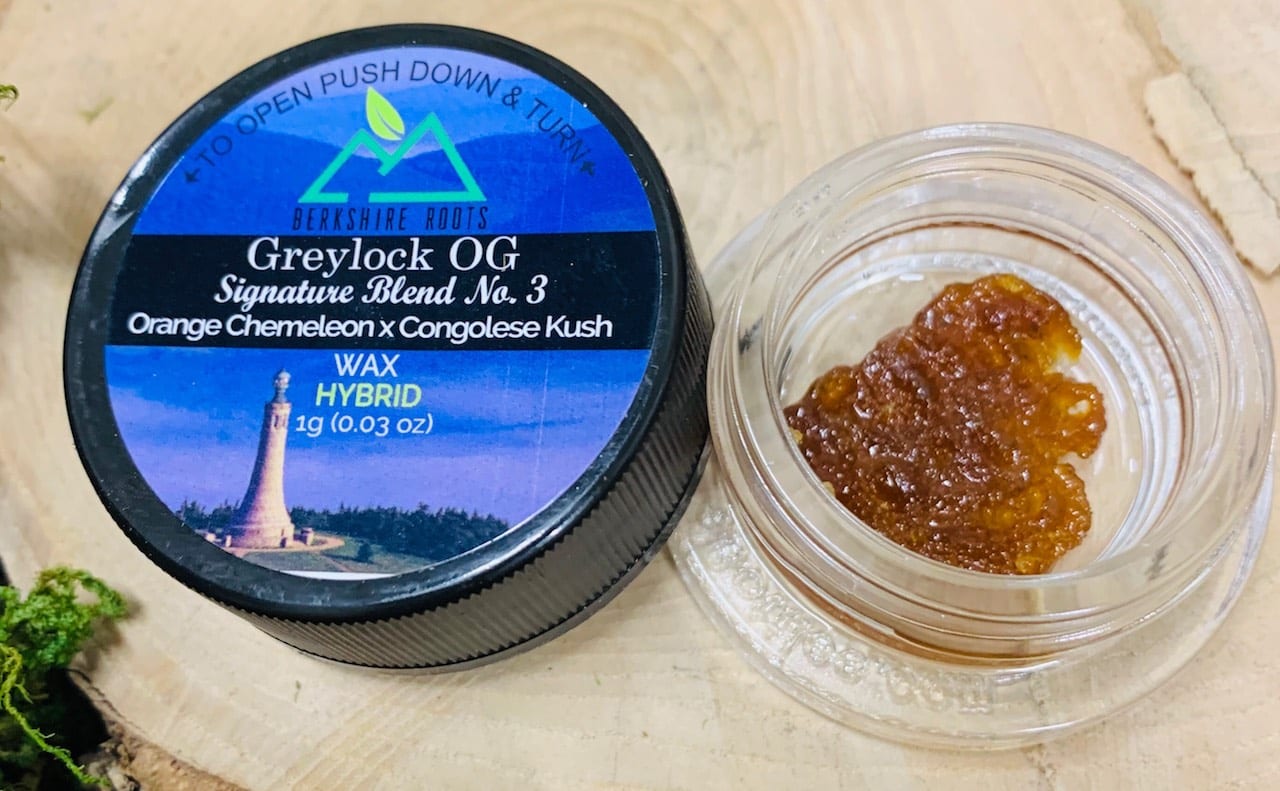 Berkshire Roots grows all our cannabis at elevation. Over 1,000 feet up, right next to the highest peak in the commonwealth, Mt. Greylock. In celebration of this legacy, we are introducing our signature blend #3. The lab geniuses here in Pittsfield have really outdone themselves this time, blending two of our customers' favorite in-house strains, Orange Chemeleon (a powerful sativa) and Congolese Kush (our most kushy indica strain). Both are two of our "terpiest" strains with loads of the terpenes that make these popular strains so flavorful and aromatic.
The result is a wax concentrate that we're over the top to offer to the cannabis concentrate connoisseur. If this is available when you're shopping at Berkshire Roots, grab a gram while it lasts.
Signature Blend #2 – Orange Chem Breath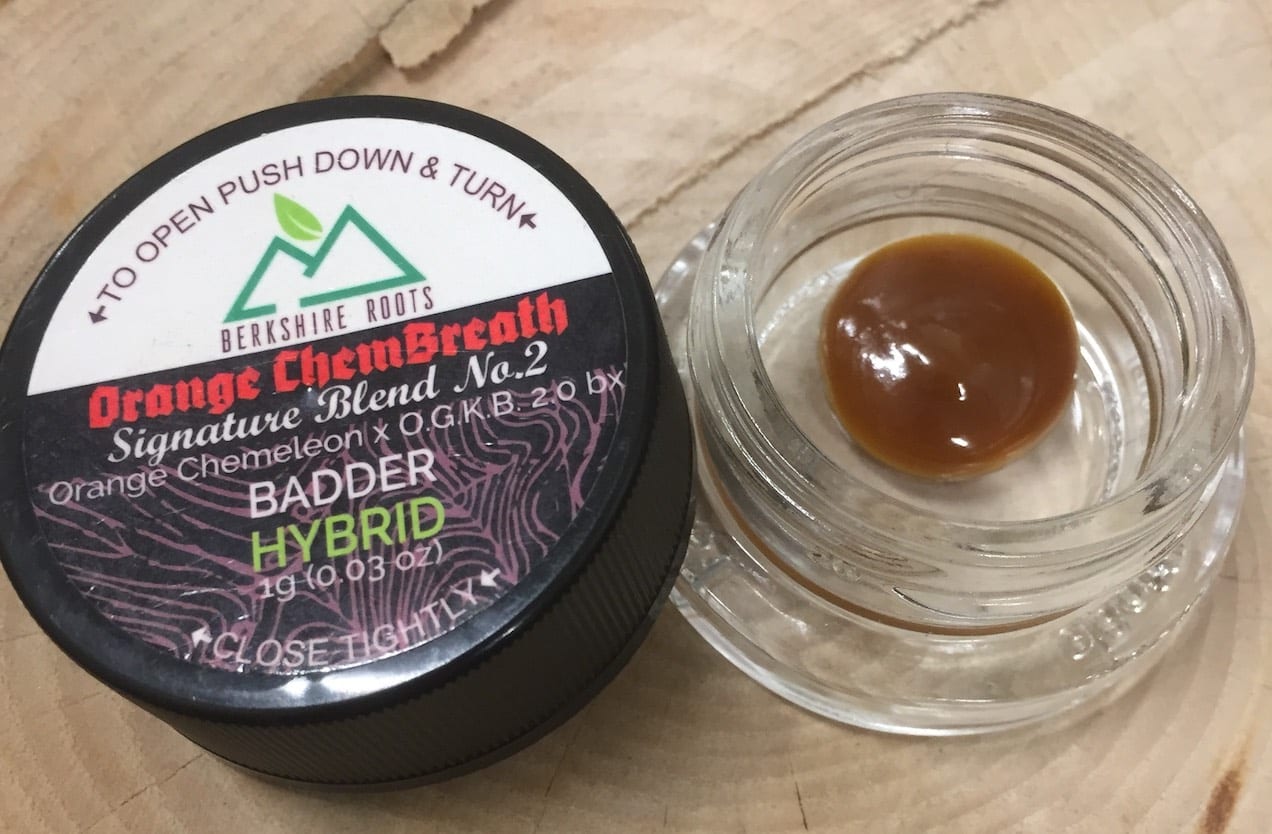 Building off the terrific response we got from our Orange Chemeleon badder runs, we knew we had an opportunity to make more badder magic. Our lab magicians chose to blend our favorite sativa heavyweight with one of our other Mykotek genetics favorites, OGKB 2.0 bx. OGKBs indica profile offers a sour, earthy and bold diesel aroma, a perfect mix with Orange Chemeleon's Sativa burnt orange and gas scent. The result is a smooth, easy to work with badder that will give you the balanced, heady yet relaxed effect that such a mix provides.
Signature Blend #1 – Shire Wolf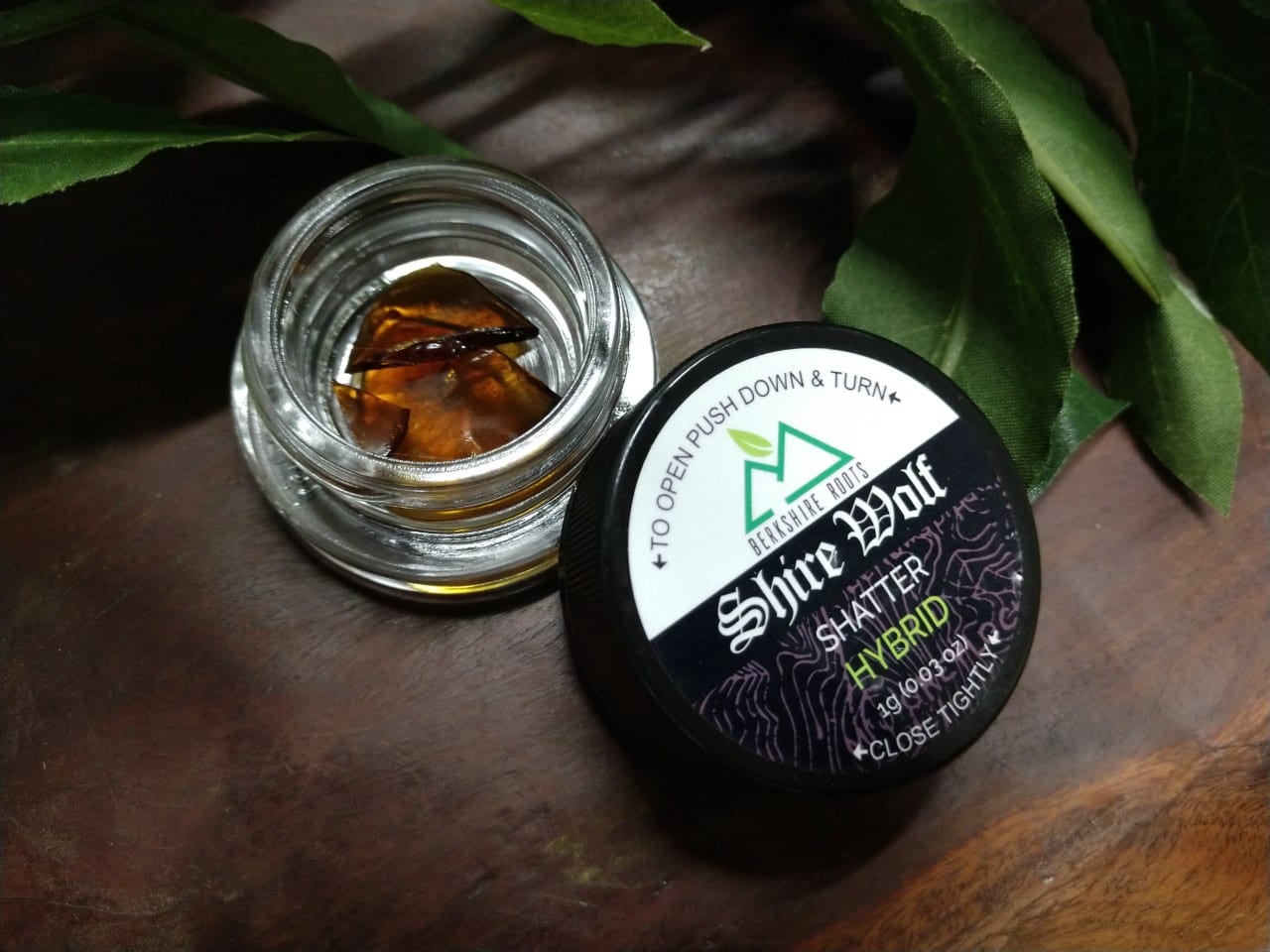 This delicious signature blend of our hometown favorites, Snowdog and Silver Fox has a rich terpene profile with a clean citrus taste and notes of earthy vibes. 
Our BR tasting team tells us the effects take off with a bright and uplifting introduction, followed by warm and fuzzy anti-anxiety effects that we all love from Snowdog. It's followed by a gentle calming effect with some smooth euphoria and relaxing body feels. Only BR's gurus could blend something so unique and delicious!
N°

Six Depot Cold Brew Belgian

-

S

tyle Dark Chocolate THC

-

 I

nfused Bar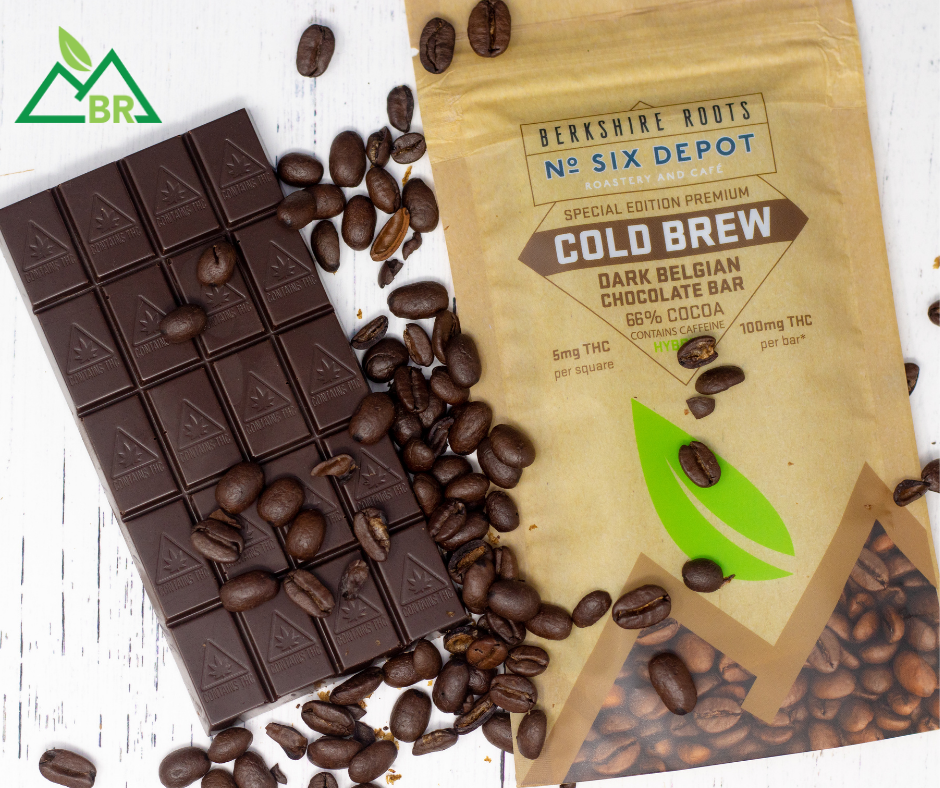 Our collaboration has local roots, our friends at Six Depot, Coffee Roastery and Cafe worked with us to create a one-of-a-kind chocolate bar.
Six Depot's Cold Brew is a mix of aged, Monsooned Malabar and high grown Brazil Oberon coffee beans which create a smooth, chocolate-y, almost cognac quality with virtually no acidity. Mixing that with Berkshire Roots' delicious, Belgian-style dark chocolate and exceptional high-quality THC distillate creates a premium, infused experience.
Brand New Product - Roots Fruits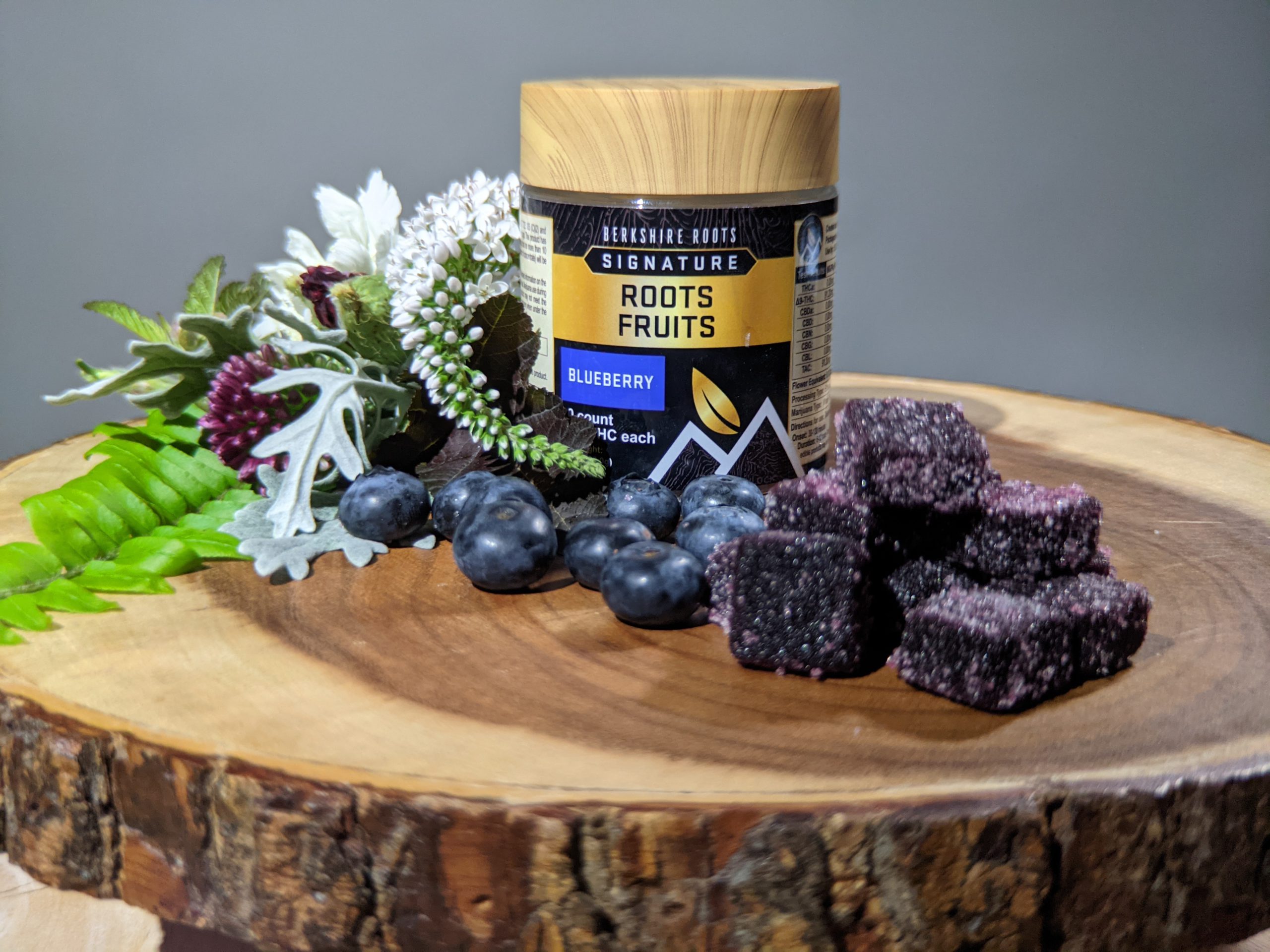 Roots Fruits is the latest creation from our kitchen, a take on a traditional French bite-sized confection or Pate de Fruit. This simple, delicate fruit square is made with minimal ingredients. Roots Fruits is a Gluten-free and Vegan-friendly product, grab one while they last.
BR's Chews - Over 10 Flavors!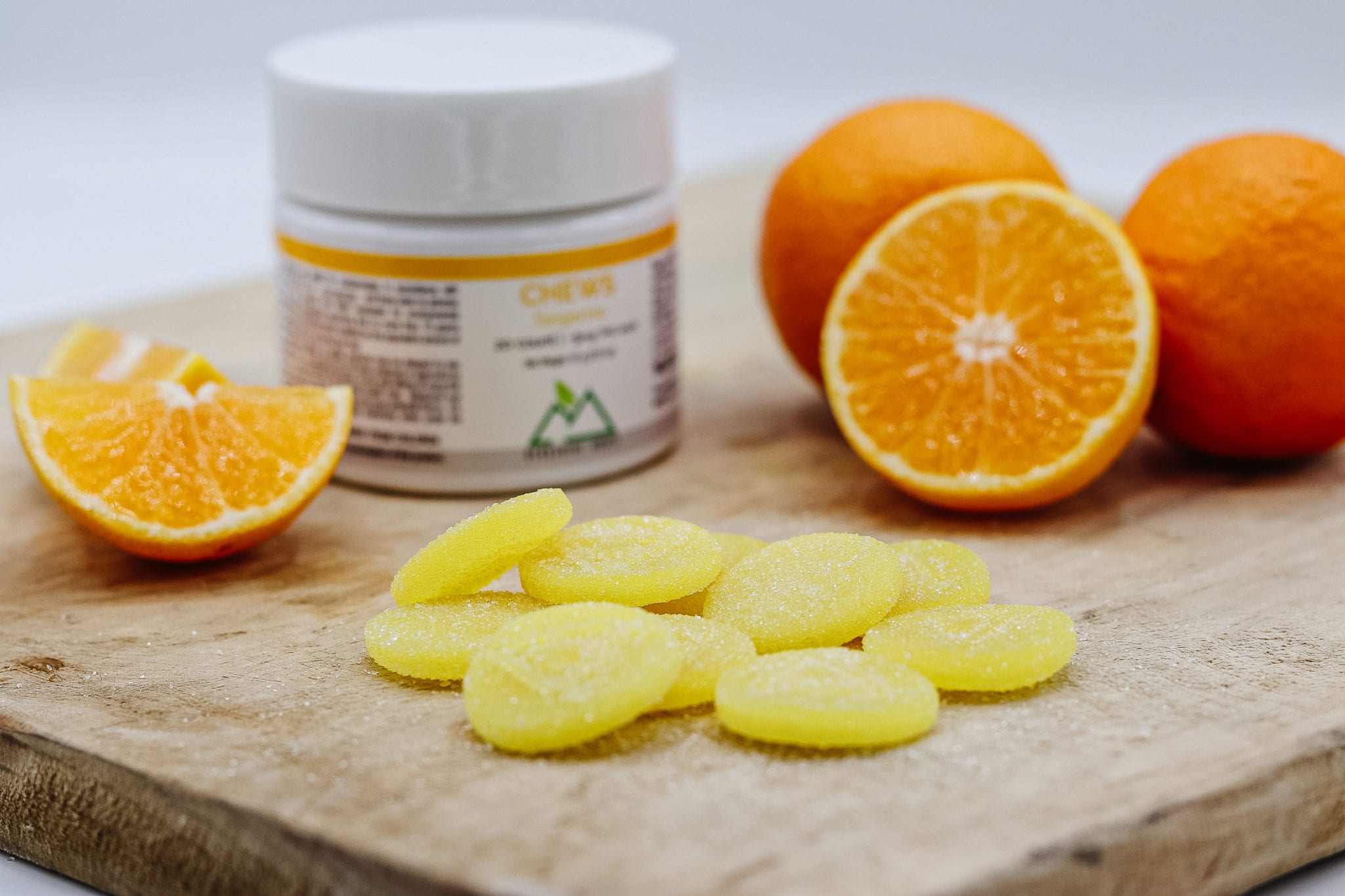 High Standards – Honest Ingredients
Our award-winning chews are a great alternative to smoking flower and vaping. Edibles may be a great versatile way to introduce cannabis into your lifestyle. Our chews are made free of artificial coloring and ingredients.
These chews come in a variety of flavors and many include CBD as well, Full-spectrum options and full CBD options are available. Keep an eye out for seasonal choices as well.